This checklist can be used as a reference point for ensuring that, whether you have a new or existing site, it is on point and following the latest best-practices.
This SEO checklist has been broken down into 5 main categories:
Progress Tracker
Data Collection and Analyzing Setup
Tools are essential to understanding your sites performance and provide you with a foundation of data to start building your sites SEO.
These are the two big tools in the room for SEO. Once we have these accounts setup and configured we can start collecting data and move forward with the rest of the SEO checklist.
A sitemap tells the crawler which files are important in your site. It also gives crawlers the following valuable information.
When the pages where last updated.
How often the pages are updated.
Any alternate page languages.
The sitemap.xml file is created using the platform your site is using. So for WordPress sites the Yoast plugin is where you would set this up.
To check if you have this file in place, go to the root level of your domain in the browser and look for something like:
https://www.domain.com/sitemap.xml
https://www.domain.com/sitemap-index.xml
Once the sitemap.xml files is created, you can add it to the Google Search Console under Sitemaps.
This will tell search engine crawlers which pages and files they are allowed to crawl.
To check if you have this file in place, go to the root level of your domain in the browser:
https://www.domain.com/robots.txt
Resources
Keyword Research
This will help you discover what content to build, where to optimize and where to add more content.
Conduct a thorough keyword research and identify your target keywords. Then map them out by creating a framework for your keywords that mirrors your sites structure.
To create the map you can use a whiteboard, Microsoft Excel, Google Sheets and even Trello. There is really no limit how you create a keyword map as long as you can list the keywords goals for each topic.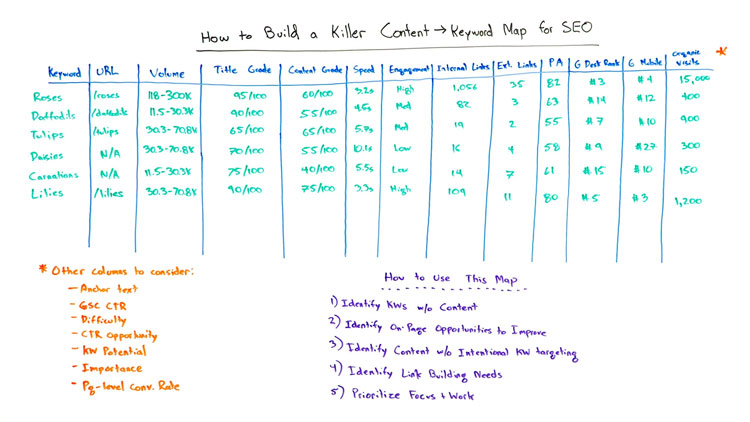 Free Tools for Keyword Mapping
There are plenty of great paid tools out there like Moz, ahrefs and SEMRush that have gotten more popular since Google started restricting access to there keyword planner tool for those who are not advertising. You can still create a free Google Ads account and use it for the Keyword planner.
Google Search Suggested Keywords
The best way to see what keywords are trending for a topic is to simply do a Google search and wait for the suggested keywords list to show. I cover how to get these results and why they are more accurate than the paid tools available in my post Use Google Search Suggestions for Keywords Research.
Google Search Console
A very important tool for keyword research is Google Search Console. It will allow you to see your content performance and the keywords used for your top queries. You can also export the results to Google Sheets or download to Excel or CSV.
Google Trends
This is one of my favorite tools. Using Trends will show you the past and present popularity of a keyword or topic. This will give you the big picture of the direction you should be going with your map.
By zooming out to see what keywords are been trending for the past 5 years, we can see if our keywords are trending in the right direction.
Title and Description Meta Tags
Title and description tags are the first thing a user will see in a search query. This is part of how search engines determine if the page is a good fit for the query.
Having duplicate tags could cause Google to detect the same or very similar content on the URLs and only index one of those pages.
Use a max of 63 characters for title tags and a max of 160 characters for descriptions to keep them from being to long and truncated into three dots.
While meta descriptions are not known to be a ranking factor they are important to your click-through rate (CRT).
If you don't have a meta descriptions in place Google will display part of your pages content.
To view your current indexed title and meta tag from the browser got to:
site:https://www.domain.com
Tools
Content Creation
Your content should be the leading factor of your SEO. Without great content and great on page experience your web site will definitely struggle to rank for any position in the Google SERP.
Like is said in my post Sustainable SEO & Metrics That Matter - "If users don't want to engage with your content, than Google doesn't want to either."
Update content if there are significant changes to the content or you can write new content and link it to related content. This keeps the users on your website and makes sure they find the information they are looking for.
Consider updating or removing content that is not performing well.
Having a lot of content that is not performing well can bring down the overall trustworthiness or authority of a website. Especially if the content is perceived to be spammy or thin.
If you have small content that is only one or two sentences per page, consider grouping them in a meaningful way into one page.
Resources
Development
This is your sites performance and is becoming an increasingly more important SEO factor. Google's John Mueller recently said in 2022 - "Google continues to increase its ranking standard based on speed, responsiveness and stability as seen by users."
A faster site is proven to increase conversions, page views and time on site. It will also lower bounce rate and operating costs.
So what is a good response time to aim for? Studies show that a 2 second load time or less have the highest retention and conversion rate.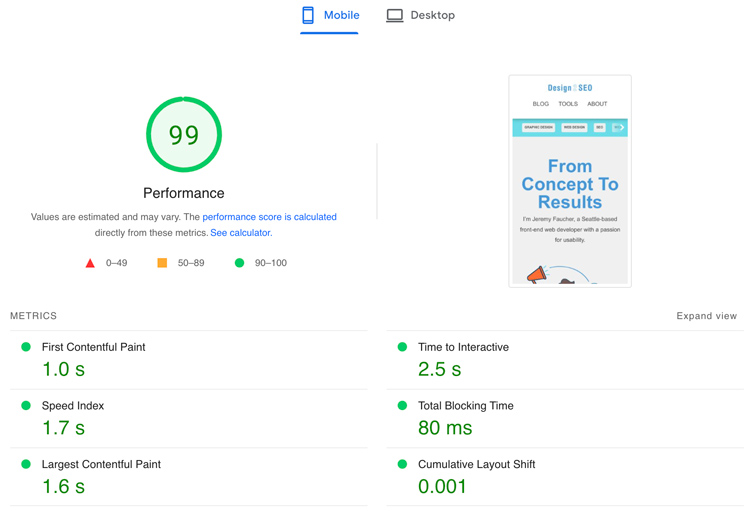 Using the PageSpeed Insights tool to test your sites performance will isolate front-end issues that are slowing down your site.
Start by tackling the easiest speed enhancements and work toward the hard ones. Adding caching to your site is a quick way to increase page speeds, but ultimately having a good developer on your team is the best way.
Tools
Since mid-2019 Mobile-friendliness is a key factor in Google rankings.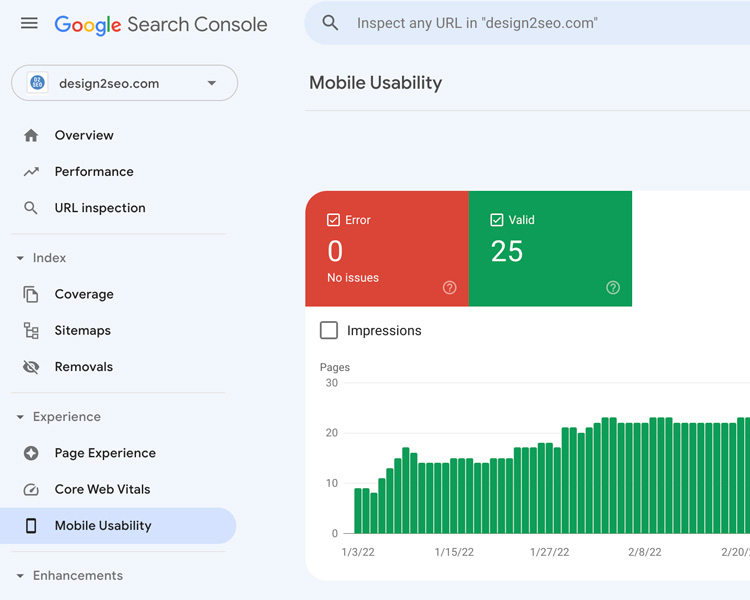 Check under Mobile Usability in the Search Console for errors.
Tools
Once your sitemap is summited and processed successfully in Search Console, go to Sitemaps > See Index Coverage.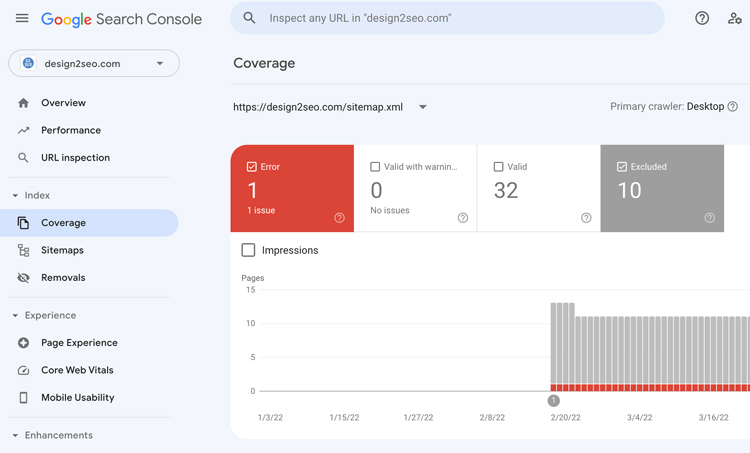 This will tell us if we a have any internal broken links or pages that are excluded from the index. Broken links will show up as a 404 error.
The 404 pages can fall under two categories, Error or Excluded. Reports may not be entirely accurate because it depends on Googlebots crawling pages to report them. But this will tell you what the Googlebots is seeing.
To get a live look at the site, I also recommend using the great Screaming Frog program. You can download it for free.
Tools
Final Thoughts
I want show how having a good understanding of SEO and utilizing basic free tools like Search Console and PageSpeed Insights can help you manage much of the core SEO factors. By creating a good, simple SEO foundation, you will be able to scale your SEO as your projects grow.